"How can you [Billy Corgan] be / everything and nothing" Alexandra Naughton asks. Because we live in a world where our lives sometime seem like spectators of other's seemingly larger lives—a world where demigods prance around on TV-land and belt out their songs in the private world of our earbuds. They have the power to enliven, anger, inspire, make us fall in love with them, and yet, are unaware of our existence. Their lives are a huge part of ours while we are, what? . . . just spectators?
Alexandra has a crush on Smashing Pumpkin's front man Billy Corgan, but she's not just sitting back about it. She's speaking to him directly in her new poetry book published by Punk Hostage Press, "I Will Always Be Your Whore."
This is a book that Smashing Pumpkin fans and poetry lovers alike can raise their glasses to. Each of the twenty-nine "love songs," or poems in the book, correspond to a Smashing Pumpkins or Billy Corgan song. I can imagine what critics might say—something about vicarious living, unrealistic-love, celebrity obsession, etc. But this is one of the most honest books of poetry I have read in recent memory.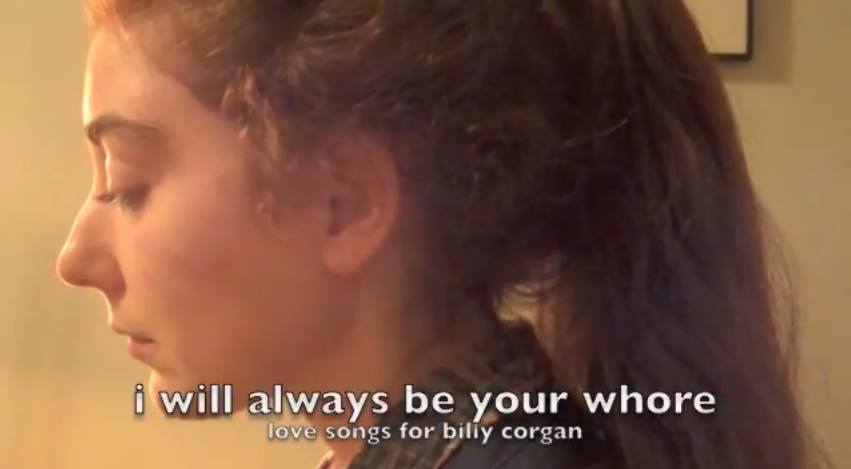 Alexandra is unafraid to admit to the same feelings we've all felt, but hide because, well, in my own case it's entirely proper for me to post to Facebook that, yes . . . I am in love with Joanna Newsom. No, I have never met her. I likely never will. How do I know I love her? From her music. Yes, she will likely never know that there is a guy named Luke in this world who is so entranced by her melodies and esoteric lyrics that love is really the only word he finds fitting to describe his affection. So should I deny that feeling just because I'm a stranger to her? That is the question that Alexandra is unafraid to answer honestly.
To paraphrase one of her poems, Corgan makes her feel like a piece of star is glowing in her throat. If someone out there in the transcendent realm of radio makes us feel such burning passion, aren't they more imminent in our lives than the people we pass daily at the grocery store?
One definition of great poetry is not poetry that teaches us something we did not know, but expresses our deeply seeded, unarticulated convictions in a way that makes us understand ourselves a little better. "I Will Always Be Your Whore" transcends its dedication and offers sparks of insight served on a platter of reaching prose.
Who out there does not feel personally stirred at the following lines, "And I just want to feel safe / And I just want to feel like what I'm doing is working / And I wonder if it matters anyways"? We all want to feel safe, want to feel there is meaning behind what we do. And who among us escapes feeling insecure and vacant at various turns?
The second song, "Love" is five stanzas of uninhibited honesty. It is a poem of expository sentences that combine to create a bigger question of "are the things I am doing important? Do they matter?" These poems we write, the tea we drink with lemon, how we use art and poetry to say the things we can't approach any other way, the splifs we smoke, the groceries we buy from the liquor store, the things we contemplate doing but don't—it's an alley oop of a poem that sets up subsequent poetic dunks.
There is a maintained awareness throughout the collection that, yes, writing a book of intimate love poems to someone who will likely never read it is reaching.  But the alternative of not writing the book suddenly seems even more ridiculous—could only ever lead to regret. Alexandra is at peace with it and just wants to express her feelings, unafraid of how those may or may not come across. That is the plain that poets strive for and far too few reach.
In the end, I think we can all agree with her, that "We all want the same things, someone / to walk with us / to the store."
Support your grassroots arts and pick up your copy here.