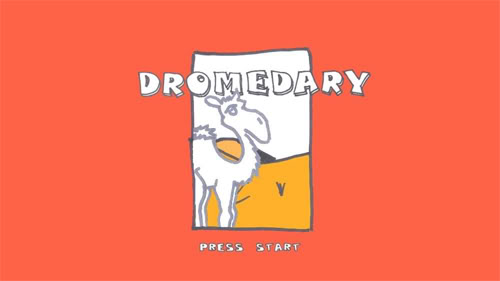 Arman Mohazzabfar
Why I Love Dromedary, One of the Laziest Indie Games in History
There is absolutely nothing too creative or innovative about the indie game Dromedary available on Xbox LIVE. It gives you about 4 options, all of which can lead to your immediate death for no reason. But I'm getting ahead of myself. Let me explain the game first.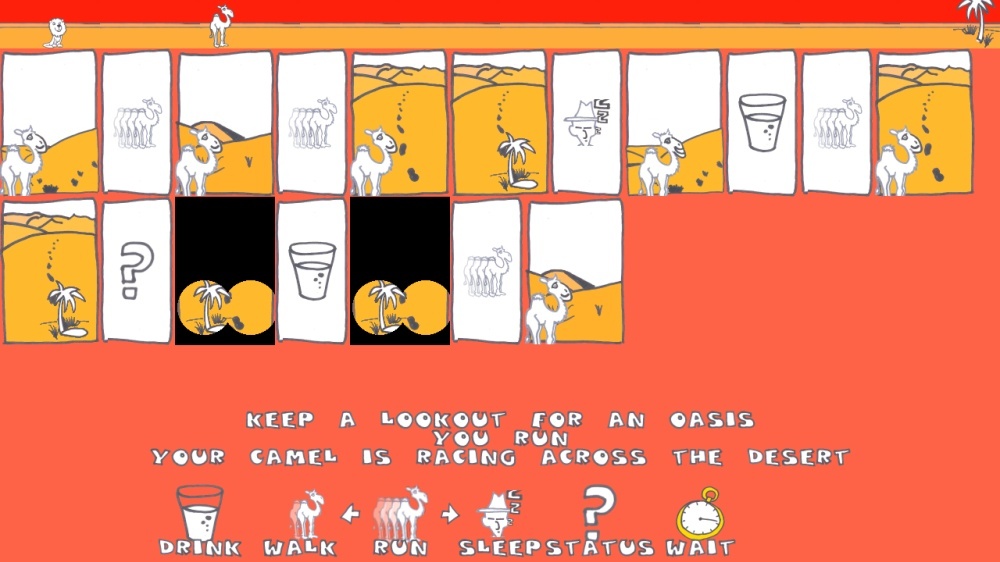 As you can see, this is the game. You're a poorly drawn dude who wears a ranger hat (above the sleep tab) and has to cross the desert. The only things you have at your disposal are a canteen and a camel. But beware, there are lions (no typo) chasing after you, and there are also natives who will randomly capture you. If you can manage to avoid all that (all based on luck), let your camel rest from time to time, and find a couple oases along the way, you win. If not, you die. Clearly, it's much easier to die than win. Oh, and the game has no music whatsoever. This screenshot is really as detailed as it gets.
So, why do I love this game? Because if you look past the horribly crude drawings, the overly simplistic game mechanics and the cream-orange background, you get an amazingly epic tale of heroics. This isn't a joke either, it's honestly how I feel about this game. Dromedary stands as one of those classic games where the developer has set up a world that's intriguing enough that when the he leaves something out of the game construction, it immediately becomes filled in by the player's mind. It's imagination out of necessity, and I'm a sucker for it.
It's why I like but can never love role playing games that have a voiced protagonist. In my mind the protagonist never sounds like that or would say the awkward script. And so I freely choose to enter the world of Dromedary, where there's a lot of mind filling in needed.
1) Who are you?
The game just throws you into this race to the end of the desert and fails to describe who you are or how you got there, why you have a park ranger hat on or why a pack of angry lions are after you. So that's where your brain comes in. You can go the Beastie Boys "Paul Revere" route and tell yourself you just hooked up with Mad Sheikh's hot daughter, and that Mad Sheikh found out and sent his army of  lions after you. Or you could go the Indiana Jones route and simply realize you want to be Indiana Jones,  but you're you, so all you have is a park ranger hat and a camel and a bad situation. And sometimes you can be lazy yourself and pretend you just woke up on this camel being chased by lions with no recollection of your past or why everything is so crudely drawn. Whatever it is, you have the freedom to build story and make this lazy game literally whatever you want it to be. Except in space. Well… no,
except in space.
2) Fate
This game is out-of-your-hands difficult. There are situations where you will be racing down the desert on your camel and out of nowhere some natives grab you and hold you ransom. But the thing is, you're in the middle of the desert, so before anyone comes around to pay your ransom, you have a 100% chance of dying, either to dehydration or to the pack of hungry lions heading in your direction. You can try to escape, but if the natives catch you doing so, you're also 100% dead. So what do you do? You leave it up to whatever you call "Fate" and hold your breath. And then make a decision soon, because chances are your thirst is going to get worse.And that's the difference between games that WANT and even go so far as REQUIRE you to succeed, and a game like Dromedary.
When I die in a game that wants me to succeed (think pretty much every AAA game) I feel like an idiot and get frustrated and might call my little brother an expletive for absolutely no reason. When I die in Dromedary, I don't see it as a failure in the game, but rather as a failure in the character my mind created. It's a sad tale of, "Don't have sex with Mad Sheikh's daughter before marriage" or "Don't pretend to be Indiana Jones." But, when there's that slight chance that Fate smiles upon me and helps me break out of that Berber camp, or narrowly dodge a pack of bloodthirsty lions with laser eyes (who says they don't have laser eyes, definitely not this lazy game) it immediately gets written down into the lore for generations to come, AKA my brain.
"Tell me another story about Arman, the most attractive hero of all," the recently turned 21 year old girls of a village say to their Elder. When you succeed in this game, you defy all odds and become a true hero. That's kind of cool, right?
3) Companionship
The Epic of Gilgamesh is first and foremost about Gilgamesh defeating gods/becoming a god. And 
although Gilgamesh is the hero, he couldn't do any of it without Enkidu, his weird animal/human/ladyloving best friend. Everyone needs that guy to back them up. Captain Kirk had Spock, Mario had Luigi, Indiana Jones had Chinese kid, it's just the way you construct a good story. And in this gem, you have camel. Arty (camel) and me sometimes go a long way back, sometimes we've just met. Sometimes we're doing just one last job, "Like in the movies!" my character says to Arty, to convince him to come with me on a stupid journey through a desert where he'll be doing all the work.
Sometimes it plays out like Planes, Trains and Automobiles, and other times it plays out like Lethal Weapon, but no matter what, if he goes down, you go down and vice-versa. You need each other. Literally, the game ends if your camel dies. But also, metaphorically, the game ends if your camel dies, because I like to think you're too sad to continue, and the desert is too expansive. You might kill a couple lions along the way, but you're dead without your camel/best friend.
And if you succeed, you succeed together. Of course, you'll probably get most of the credit, because you're human and he (or she, if you wanna go down that route) is a camel, but still. There will definitely be grapes or whatever it is camels like to snack on at the end of the journey.Bethesda's Game Director, Todd Howard, has gone on record saying that he likes starting Elder Scrolls games where the protagonist begins as an unnamed prisoner. Because it's in these moments when the player really gets involved in the story. What put you there defines how you're going to play the game and who your character is. Are you trying to redeem your past actions or continue them? Were you wrongly accused? Or were you very rightly accused? Whatever it is, you decide, in your brain.
Dromedary is a game that although is completely utterly stripped down and lazy as hell, it also demonstrates a lost art that made games thrive. When you forget that you're playing a game and you believe that you're telling a story. It's glorious. And cream-orange colored.