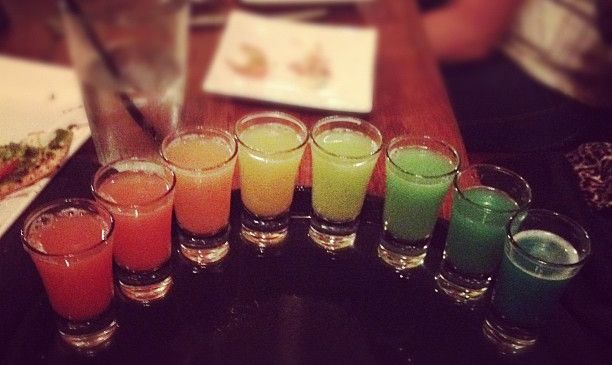 When my Little Brother texted me months ago and requested my presence at his 21st birthday, my only thoughts were about logistics. I mean, he's family. Also, he still lives on Martha's Vineyard (where I spent my illustrious high school years) and his birthday happened to fall on the Saturday of Labor Day Weekend. So, if I had to make the sacrifice to give myself and my man a mini vacation in order to be there for the lil' bro, I suppose we could suck it up, rent a car, and do it.
I did not think about the fact that my age is much closer to 30 than 20 or that a big night for me is a couple gin gimlets before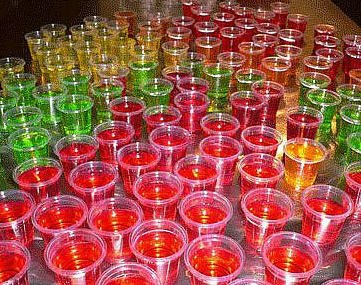 falling asleep during reruns of Seinfeld. Apparently I assumed that I can still hang—that I was just in hang hibernation. I'm not going to necessarily call that a mistake since today, The Day After, I'm able to get up before noon and write this little ditty for you, but I saw some things that can't be unseen and I drank some things that can't be undrank.
The night started innocently enough—a BBQ at my dad's house with a few of my LB's friends and a rainbow variety of Jell-O
Shots. I can't say it ever occurred to me that whiskey pairs well with red Jell-O while tequila is more of a green but it works! Once we got our fill of burgers, sausages, shrimp, and gelatinous booze, it was time to go out.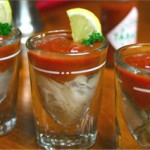 The first bar was pretty classy. We had oyster shooters, which, if you don't know, is a shot with a raw oyster at the bottom. I recommend the one that includes tequila and Bloody Mary mix, rather than whiskey and pickle juice, but that's just me. If you're starting to think that I only stuck to the weird combo of whiskey and tequila all night, just wait a second because up next was a rum fruit smoothie—the Bahama Mama. Then we arrived back to a giant version of the shooter: a Bloody Mary made with spicy tequila, topped with an oyster. It was pretty intense, so I had to stay behind and finish it while the young ones commenced the pub crawl portion of the night.
A couple very intense dive-ish bars and a single Bud Light. I couldn't drink anymore, mainly because I was so full of Jell-O and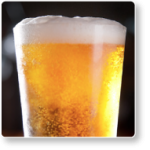 oysters, so I took in the ambiance instead. These were places I walked by hundreds of times and wondered about, but since I turned 21 after I had already left Martha's Vineyard and don't visit often, I've never been inside. Some things should just be left to your imagination. Both places felt like the basement of a sketchy friend; both were full of people who were a couple years younger than me in high school. No one was looking sharp.
At this point in the night I was just drunk and just sober enough to start to worry. I knew how much I had had to drink and I knew that my LB had far exceeded that. Thoughts raced: Is he doing another shot? Is he going to throw-up that shot? He's going to throw-up. He didn't throw up! Is that "Blurred Lines" playing again? Followed by Bel Biv Davoe? We heard that at the last bar. Is this the same DJ? Is my brother going to die tonight? I've read the news; this is how it happens.
That's when I decided to closely follow him around for the remainder of the night. Our last spot, the second of the dives, had pool tables. A few old men got in a fist fight that intensified when a broad shouldered woman wielding a pool cue jumped into the mix. Fortunately, this place had an upstairs where a cover band was playing.
Oh, and what a band this was. The band's name is The Zoo, obviously. We got there just in time for their final medley of hits from the early 2000s. I'm talking Kelly Clarkson leading into Lit, leading into a throwback "Sweet Child O' Mine," ending with Kid Rock. It was an inspired grouping of songs. Bonus: the lead singer kind of resembled the lead singer from Smash Mouth. He held a mini fog machine in one hand and an iPad in the other, so while the crowd was doused in smoke, poor quality photos of them were being projected on the wall behind the drummer. These people have showmanship down.
The band wrapped things up with an encore of "Shout!" and I thought the floor was going to collapse—this is how it happens. Only then was I able to get the lush of the evening, my lovely LB, into a cab and home. As fate would have it, the cab ride was excruciating, but let's not sully a great story with unpleasantness.
Now, it's the next morning and all I have to say is: kids these days, am I right?! Damn.
Also, if you're impressed with my ability to keep that mélange of liquid and food down all night, don't be. This morning my butt threw it all up.