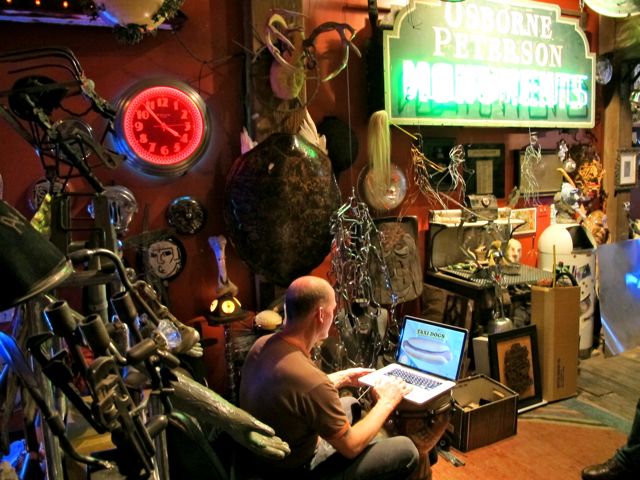 When you cross the threshold of the House of Balls, you leave the familiar behind. The studio/gallery studio/gallery is creation of found-object sculptor, Allen Christian. You'll find it tucked into a corner of the warehouse district of Minneapolis, in the neighborhood of condos, cafés and chic shops. But you never know what's behind a door. Even the most generic facades can hide worlds of wonderful strangeness.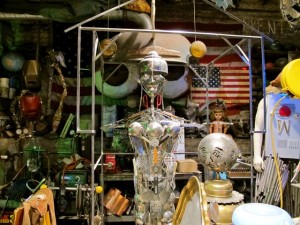 The House of Balls is such a world. Every inch of wall, ceiling and floor space in the studio is filled with Allen's creations—treasures made from discarded items. Many of his works take on human forms and faces; so as you walk through his studio hundreds of faces holding different expressions peer out at you in the funky, dim light.
But more than just feeling like you've walked into a strange room, it feels like you have walked into someone's mind. And in a way, you have. The House of Balls is where for the last 25 years Allen has channeled his creativity into tangible statements that reflect his views, his questions, his hopes and dreams, heartbreaks and jubilations.
A friend of mine in New York, Bruce, told me about the House of Balls when I told him I would be passing through Minneapolis. "You have to go there," he encouraged me. He began explaining the place to me, but settled on, "You just have to go there and you'll see what I mean."
The House of Balls is named for one of Allen's mediums of sculpting bowling balls, but that's just the tip of this artistic iceberg. 

One reviewer on Yelp.com describing the experience of visiting The House of Balls writes, "A fateful life-altering evening in January. An experience I have not fully comprehended and from which I have not fully recovered." Another reviewer asks, "Do you know how lucky the Twin Cities are to have this sort of place?"
I hope it does. Though magnificently varied, Allen's art is filled with feeling. It's not the sort-of stuff anyone could feel neutral about.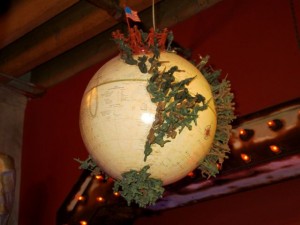 Allen's demeanor is disarmingly welcoming. He's soft spoken in a humble way. He watched curiously as my brother, Aaron, and I poked around his studio, tracking our reactions.  He was kind enough to do allow my brother and I to interview him for Rabble Rouse The World. When we told him about the site he loaded it on his Macbook and began scrolling through the site. "Does the interview have to be funny?" he asked. "No," we told him, "just be real."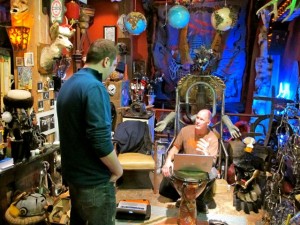 Allen D. Christian in Conversation with Rabble Rouse The World
Rabble Rouse The World: How did you get started doing found art?
Allen D. Christian: Part of it was economics. There's also this kind-of intangible energy that you find in manufactured elements that then become waste. I love the older technology where design was built into it as well as function….
*PHONE RINGS*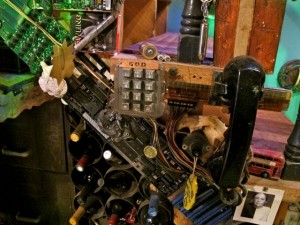 Allen: …Damn phone! House of Balls? Yep, okay good, cause it's in my van and I don't have the van. Yep. Alright. Bye.
RRTW: Great phone! (The phone is an sturdy looking Antigua the gives off an aura of awesomeness)
Allen: Explosion proof!
RRTW: Before you did found art did you work an any more conventional mediums?
Allen: I did like woodcarving, but even from the beginning it was always sort-of economically driven. I've always been a believer that we should slow the waste stream down. How do you take the things that someone has deemed as value-less and re-imbibe them with something that somebody else will find valuable?
RRTW: Do you have a piece that you feel encapsulates you and what you do more than others?
Allen: The big tall wood carving in the front window probably… it's the oldest piece here, and it's the one that was kind-of a mirror into my own potential, it made me say, 'wow', I'm not half bad. It's a good piece for me to reflect back on in terms of where I've come from.
RRTW: Can you tell us a little bit about your process?
Allen: For instance these brushes: I got twelve boxes of brushes, and it's about finding out how to put them together. It's assembly as much as wondering how to imbibe them with some pathos.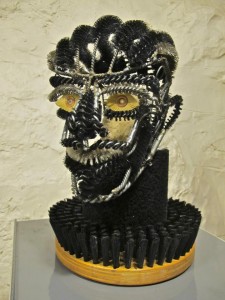 How do I give an inanimate object emotion? How do I connect it? I've always been intrigued by the human figure because it's my connection to you. It's trying to speak a universal language through these manufactured goods. I've always been attracted by things that go beyond place and time and somehow are connected to a much deeper resonance within all of us. It's where I try to go consciously, unconsciously, it's a mixture of both.
RRTW: What's the reaction of people to your art?
Allen: Obviously most of my friends like my work otherwise they wouldn't be my friends. My daughters just say, "Alright dad. . ." Most people that cross the threshold to my studio already like it, because this kind-of art attracts them in the first place.
I've had a public studio for twenty-five years. I didn't really go out looking for a public space but it fell into my life. And that's what it became about. How do I have a dialogue with the public? A lot of it was allowing people to see the process of art and letting them know that it's nothing more than perseverance. If you love something, if you have passion about something, you just do it. And I wanted them to see not just the gallery end of it—which doesn't happen often enough—but the studio end of it. And invite them in to have a dialogue about the world. Where we see it. Where we want it to go. What are our hopes and dreams, what are our fears?
And I try to do it subtly. I don't blatantly blast the powers that be, but we need to have a dialogue about it. Because they are running our lives in a lot of ways. And until we realize what is happening we can't empower ourselves to stand up to it.
RRTW: What do you feel is the relationship to the audience of an artist?
Allen: I don't know if art is really art unless it is shared with the viewer. Art is only powerful if someone sees it. I'm not market driven, I create things for myself, but because I am so open they become the conduit to the public dialogue.
RRTW: What would you say to the 13 year old who says they want to be an artist? What would you tell them?
Allen: Get off your ass, turn the Xbox off, pick something up that doesn't have an 'on' button and start playing. Get a box out and start imagining what it could be. Technology has the duality of giving us a lot of information but if you're stuck on that level you're not being true to yourself. You're not creating the things that you need to do to give identity to yourself. That's the most critical thing. We need to teach our kids how to be individuals. And that's not by mass marketing.