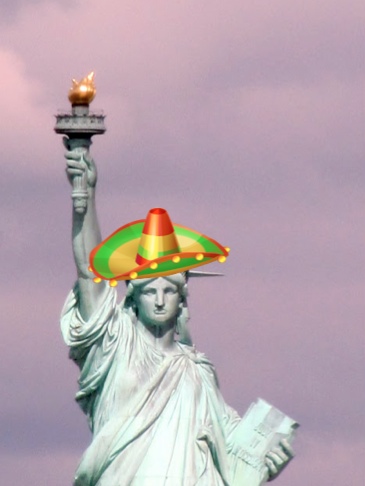 In a stand supporting immigration reform, the Obama Administration announced the construction of a shocking monument yesterday, which is set to stand directly on the border of El Paso, Texas and Mexico.
The monument, a close replication of the Statue of Liberty, has been proclaimed to be a major push towards immigration reform, Democrats stated. The statue, which will be casted in copper, like the original, will stand only three quarters the height of the original.
"We wanted to really make this monument belong to these immigrants. We wanted it to identify with all Mexicans. Therefore, we made it smaller in consideration of the average height of most Mexican's", said monument designer, Peter Schremp.
Besides the difference in dimensions, a few other alterations are to be expected. Instead of Lady Liberty's crown, a sombrero will be worn in its stead. Her famous torch is to be replaced by a burrito, with rumors of endorsement bids by Taco Bell and Chipotle circulating.
Within hours, conservative driven protests have erupted in the streets of many southern Border States. In Houston, a gathering of protestors allegedly began shooting piñatas with shotguns, at a random child's birthday party.
Major riots in Los Angeles have erupted, just because.
Many states are threatening to fight the monument, and have released public statements mentioning legal action.
President Obama, expected to speak tonight on the issue, released one statement early this morning. The NRA is encouraging its members to fire on the monument.
Obama said in a statement that, "As an American citizen; which I really am without the shadow of a doubt, despite what many republicans have failed to yet prove that I am not, which I am; I believe this monument will be a step forward towards acceptance in America. Adios."