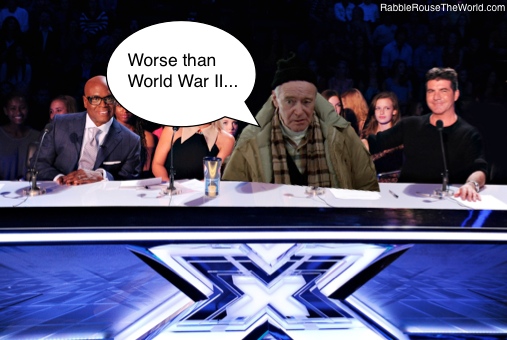 LOS ANGELES – Abandoning all pretenses of good grace, charitableness and impartiality, Simon Cowell has hired three cranky old men to judge the next season of his interactive reality talent show, The X Factor.
In an exclusive interview with Rabble Rouse the World, Cowell, a former American Idol judge and world-renowned grouch, stated his reasons for the startling decision.
"I just decided to face the facts," Cowell said. "People don't tune into The X Factor to see people being judged fairly. Hell, they don't even watch it to hear people sing. They just want to see the contestants' egos ground into the dirt, smashed like so many flies on a windscreen. So, with that in mind, I hired the meanest three geezers I could find to help me judge the next season of the show."
Cowell added that he had "searched high and low" to discover the three "grumpiest bastards in the land" to replace The X Factor's current lineup of Demi Lovato, Kelly Rowland, and Paulina Rubio.
"We subjected the candidates to a very rigorous screening process," Cowell assured us. "We weren't satisfied if a senior on our list was only partly disgruntled or mildly peevish. We wanted the whole enchilada. And in the end, we found the sulkiest, surliest, most contrary old fogeys that ever were."
"Trust me," Cowell added, "these guys are as crusty as they come."
The Factor's new lineup shall consist of Melvin Hearst, 82, of Willamette City, Oregon, a Korean War veteran and member of the Benevolent and Protective Order of Elks; Herkimer Ballard, 81, of Hodge, California, a retired automotive mechanic; and Wainwright Greenup, 84, of Decatur, Indiana, a former fly fishing instructor.
"Simon came to us and said, 'I've got a great new direction for The X Factor to take,'" stated Rob Wade, one of show's executive producers. "Then he laid it all out for us. We were shocked, of course. It was a pretty radical idea, hiring a trio of Grumpy Guses to judge all these young, dynamic contestants. I wasn't sure about it at first. The only thing was going through my head while Simon was talking was 'Zowie. Great googly-moogly. Whoo-ee baby. Dang, man.'"
Though the producers were initially hesitant about the transition from young, successful female performers to crotchety octogenarians, the response from the public has been unanimous and enthusiastic.
"No, I don't care how many records Demi Lovato has sold," said Herbert L. Jensen of Provo, Utah. "I don't care how nice she is, either, or whether she gives the contestants a fighting chance. I didn't turn on the boob tube to see some poser getting a free ride to fame and fortune. I want to see some humiliation. Unleash the testy pensioners!"
"Just who the hell is Kelly Rowland, anyway?" Baltimore resident Laura Prost demanded. "What exactly has she done? Corroborated with David Guetta a few times? Does that make her some kind of expert? Big whoop. I want to see the old-timers visit some indignities upon those hapless wannabe contestants."
"Big crybaby losers," Prost added.
Cowell's brainchild seems to have caught fire with the international community. Many nations have adapted the idea to suit their own versions of the show.
"It's a big hit," stated Hồ Ngọc Hà, formerly the sole judge of the Vietnamese X Factor. "As soon as I heard what Simon was doing with his program, I ran down to the docks and grabbed the most leathery, nitpicking fishwives I could find. The ratings have gone through the roof. Everybody loves to see those wrinkly old biddies tear into a new crop of doe-eyed contestants. We should have done this years ago."
"I can't believe how popular this move has been," said Czesław Śpiewa, Polish singer, accordion player, and Factor judge. "The producers really did a wonderful job. They combed through the woods and fields and public houses of Rzepin and Prabuty and hunted up the crabbiest, most cantankerous oldsters around. Seriously, these folks have got one foot in the grave and a chip on their shoulders. They just eviscerate our contestants. It's a joy to watch."
The popularity of this unorthodox shift in talent show judging has sparked questions about the future of reality programming and television in general.
"Think of the possibilities," said Andrew Llinares, another of the X Factor's producers. "Simon's breakthrough could reshape the entire Fox Broadcasting Company. Just imagine if the political opinion programs on the Fox News Channel were hosted by grumpy old men! They'd be popular as all get-out!"
"Oh wait," Llinares added.