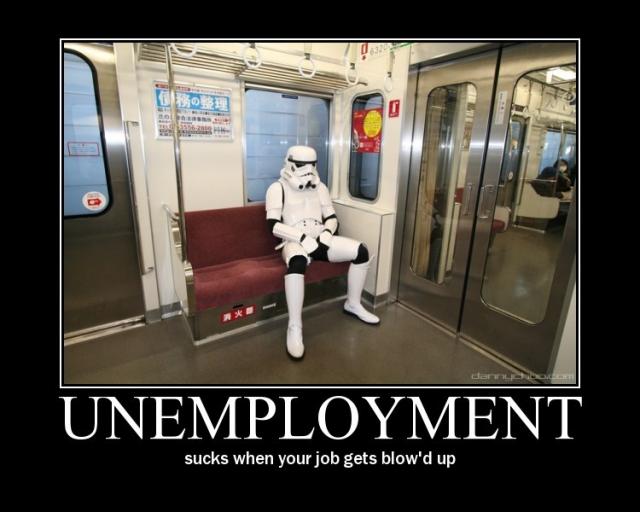 I have now found myself in the trenches of Unemployment: Day 1. Last week we were on the train chatting about romance, this week I have no income—what a wild ride this thing called life is!
Now before you worry too much, I knew this day was coming. In fact, it was I who chose the fate for myself. Funemployment, underemployment. Whichever word you'd like to use, both mean that I didn't want to walk dogs anymore so I quit my job almost a month ago, giving a crapload of notice, and now the day has finally come when I am not required to leave my house. I'm pretty excited about it! But, also, if you hear of any jobs, please let me know! I'm open to anything, very versatile.
Of course, I'm looking other places too. I have a whole plan and everything, which includes using the Internet. I guess the whole plan is looking on the Internet, but that's neither here nor there. As I prepare to commence the job search, I've made a list of things to help me through this time of increased availability. And since you all mean so much to me, I have decided to share said list with you!
So, here it goes…
Sara's Sure-Fire Way to Survive Unemployment (it just rolls of the tongue, doesn't it?):
1. Unemployment Television
No, watching TV won't make me money (yet), but I'm not naïve enough to believe I can avoid it all day. That's why I've decided to regulate it from the start. First, I've started a new show on Netflix. The episodes are approximately 45 minutes long and I am several seasons behind, so it should fill the hours between job applications quite nicely, and if the show just happens to get watched in a marathon couple of days, I have a whole queue of backups.
The main Television Goal is to avoid daytime TV—that's a rabbit hole with no end in sight where all of the sudden Jenny McCarthy and Sherry Shepherd start making sense, you giggle daily at the cleverness of naming a show The Chew, and you make it through the whole series of Saved by the Bell but happened to be out of the house some afternoon so you then avoid getting a job until that one episode cycles through again. I walked a dog whose parents left the TV on to keep him company, so I've had a glimpse at what this life could be like.
2. Unemployment Books
Much like my Netflix queue, I have a bookshelf full of books to read. So, when my resolve to not watch daytime television crumbles (I'm thinking I can probably hold out a good week or so), I'll have something to do during the commercial breaks other than play Solitaire on my phone.
I actually spent my first January break in college sitting in bed and watching TV. I got through one whole book-between-commercial-breaks that month (I Am Charlotte Simmons) and had some back pain that might have bordered on bedsores, but it was awesome. You know, as a woman, I think there's something very appealing about living in a different time. A time when, say, women could be diagnosed as invalid and staying in bed forever was acceptable for them.
3. An Unemployment Must: Getting Out of the House
…and it's thinking like that that brings me to this next "to do." I should probably try to get out of my apartment at least once a day for at least an hour. There are a couple coffee shops and even a juice place in the neighborhood. I could become a juice person! And I could sit in those places and write! Or look for a job. That too.
As you can see, I have a pretty solid plan in place for my days and you should not worry about me at all.