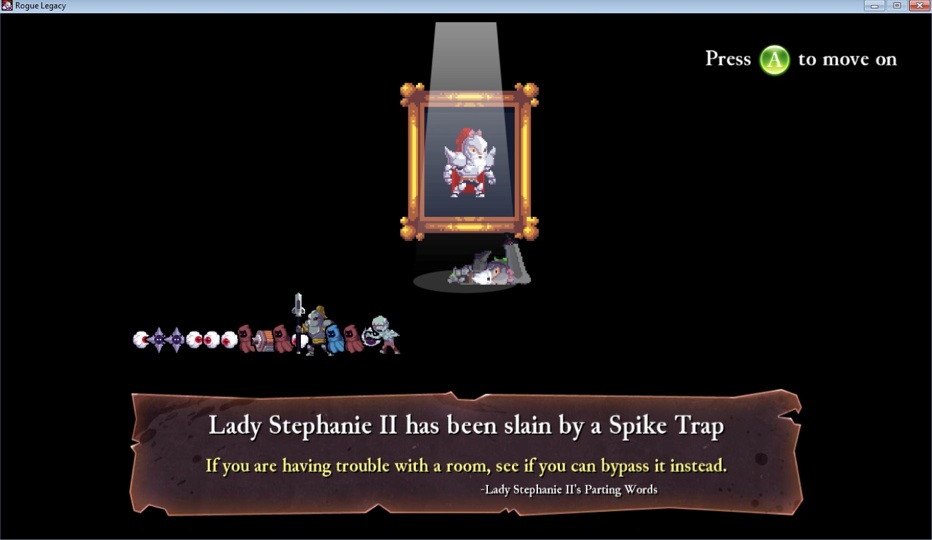 Most of us are playing GTA V, and my review of GTA V should come out next week. But I think it's fair to assume that I will say something along of the lines, "That game is great" just as nearly every other review has done. So I wanted to give a review to a game that's on the much lesser known scale, that might be a nice surprise for people. An indie PC game by the name of Rogue Legacy.
Rogue Legacy is all about the concept. And it took me a minute to grasp the concept. As someone who likes to challenge myself to do things the right way, explore every nook and cranny, and die as infrequently as possible, I found Rogue Legacy breaking my soul. The concept is simple, but for gamers, a challenging one to accept. Here it goes: It's OK to die. Yes. Even more – you HAVE to die to win. Because in Rogue Legacy when your character dies, you are able to pick one of his/her three children, each with their own class, traits and abilities. And as you play and upgrade your family home (a giant, beautiful castle), so does your offspring improve. It's a novel idea, and yet completely straightforward and simple. When you upgrade your castle the subsequent generation becomes better, stronger, learn from the past triumphs and mistakes of their ancestors. This is the legacy aspect to Rogue Legacy.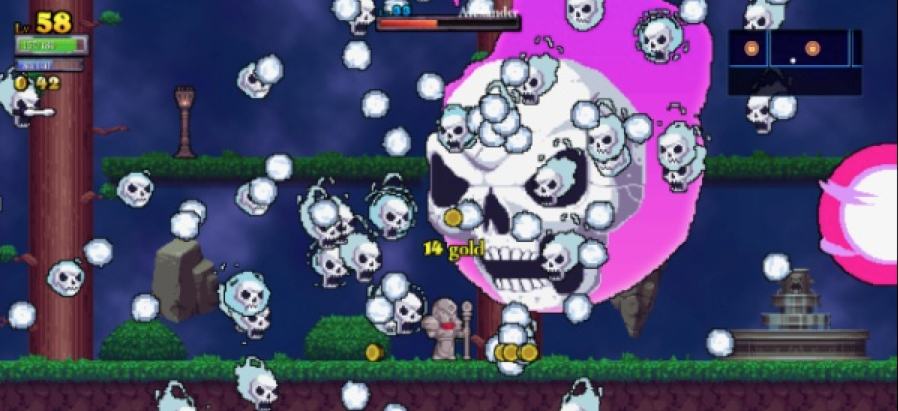 What's benefiting the concept more than anything else is the fact this game is ****ing tough. I mean it's like Ghost n' Goblins. You're a little hero, with a big sword and, initially, a small health bar. Monsters are usually two, three, ten, forty times your size and some do as much in damage. So naturally, you're going to die a lot. But once you embrace this fact, this game becomes fun in an unexpected way. To not go into any spoilers, unless you pay a certain price, each castle is randomly generated for each generation. So there's no memorizing paths or any of the such. But you, as the player, the more you play and die become savvier with each generation. You will have dark ages where you die in a matter of minutes, but in a little time, you'll manage to get 2000 gold on each run like it's nothing. And that's when this game changes completely.
There are two phases to this game, and I must say, there are few games that simultaneously manage to play two so very distinct aspects so seamlessly as this one does. To break it down for you, the first phase is hoarding. Gold collecting and monster slaying, searching every room and trying to get as much stuff before you die to make the ride a little easier for your descendants. The second phase is boss fighting. Literally the exact opposite of the first phase. Unlearn everything, because you want as much life and magic as possible in the most selfish way for the boss fights. You will find yourself skipping the same enemies you were so happy to face during the end of your first phase and cursing the game when that stupid little enemy manages to hit you right before you leave the area.
Rogue Legacy at its core is about discovery. Discovering new items, abilities, and new family members. If you're willing to die a little (a lot), you should have a ton of fun with this game.