Today, just before the start of The Price is Right, a group of Rabble Rousing seniors wreak havoc in their assisted living center after deciding to occupy the Nursing Home Hallway.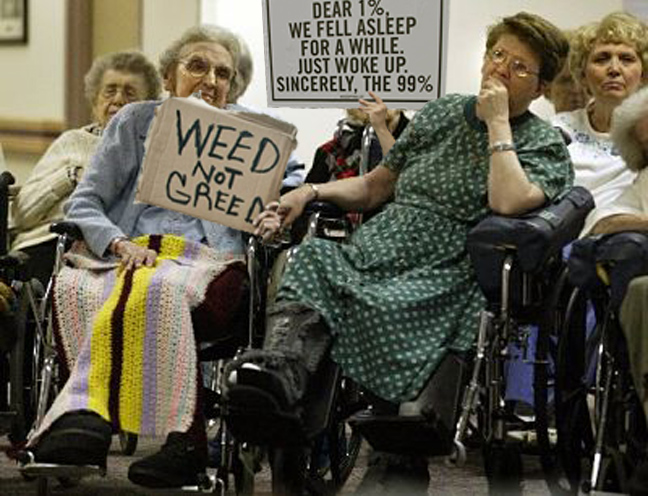 HILLSOBORO, Oregon – After watching the twenty-four hour news stations for weeks, a group of a dozen senior citizens of the Pinewood Assisted Living Center in Hillsboro, Oregon have decided they have had enough and are occupying their center's hallway.
Despite administration's urgings that the hallway may not be blocked, these seniors refuse to wheel themselves back to their room. Nursing home officials who tried to force them back to their rooms were met with stiff resistance. One man, Winston, allegedly threw his dentures at a nurse who needed to be taken to one of the nurse's station for stitches.
"It's a clear violation of fire code," said superintendent Greg Rumpleguard, "You just can't have that many wheel chairs in the hallway. What if there was a fire?"
Some officials have claimed wide spread use of opiates and promiscuity amongst the seniors. Responding to the allegation, Ether Bradley crumpled her nose and raised her hand in the air while proclaiming, "It's my pain medication and if I want to trade some to Winston for a smooch that's none of your damn business!"
When asked what they are protesting, the seniors answers varied wildly. One man, Connor Howard, seemed to think he was protesting prohibition while his friend, an unidentified bearded man, demanded that the president withdraw all troops from Vietnam.
"This cannot continue," super Rumpleguard wrote on the center's blog, "It has already gone on for three hours and soon they will tire. They always tire. They may be all riled up now, but time is on our side."
###
Image credit: Andrea C. Johnson
Help Us Rabble Rouse The World by Sharing