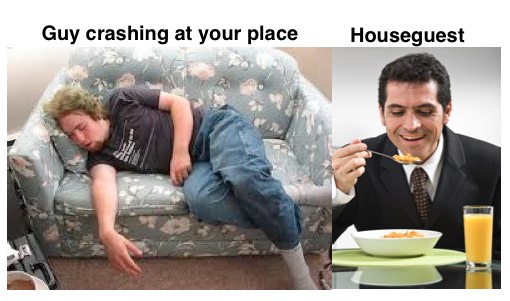 I believe a person reaches a certain age when the difference between letting someone crash at your place and having a houseguest becomes distinct. It just so happens that at this age you're also expected to start having a lot more of the latter and a lot less of the former. I haven't been able to pinpoint the exact age when this change takes place, but I believe it has come and gone for me, and I have failed to transition.
Now, I've visited friends over the past couple of years. I've noticed that they ask me in advance what I'd like to eat for breakfast and then, magically, have that item when I come to stay. I've noticed that they ask me in advance what I might like to do when I'm staying with them and then, with seemingly little effort, those things are done. I've even tried to incorporate those maneuvers into my own guest-having experiences. Though, truth be told, there ends up being a lot more getting breakfast on the go and figuring things out as we do that going when I'm in charge.
Unfortunately, there is one factor of having someone stay with you that takes it from crash to guest, and it's that factor that eludes me time and time again: the comfortable, semi-private place to sleep. Over the years, I've transitioned from one extra sleep space to the next with varying results. The only things that are certain are that none of them have been particularly comfortable and all of them have been right in the middle of my apartment (an area that is more high-traffic than semi-private).
In the interest of education through poor example, I'm willing to invite you all into my proverbial home and describe each of these sleeping situations. I know I said that they had varying results just a moment ago, but that was a lie. None of the things I'm about to discuss are worth trying in your own home.
Bed
"Wait, Sara. You're starting with a bed?? Surely a bed is an acceptable thing to have someone staying at your house sleep on."
Not the way I did it.
For several years, I thought it was a good idea to keep a twin bed in my living room. With the excuse that it doubled as both luxurious couch and place for out-of-town friends to sleep, I failed to acknowledge the truth: it was free, who throws out free? Free has been known to be a downfall of mine, and this case was no exception.
The bed, which was once part of a pair, had been in my father's childhood room. Sentiment aside, there was absolutely nothing special about this bed except for the fact it still had its original mattress, which meant it clearly provided a well-supported night of sleep. What with it being over half a century old, this mattress wasn't soft and lumpy at all. You certainly didn't feel like you were sinking down to the floor every time you sat on it.
There was also the business of having a twin bed in my living room all those other days of the year. You know, the days when someone wasn't visiting. For some reason people who come to your apartment for the first time, say for a drink or smooch, usually have a hard time understanding the creative impulse behind having a bed smack in the middle of an apartment.
"Um, is this your room…?"
"No, that bed's just a spare."
After some gentle prodding from my roommate, I let another friend take it off my hands, finally allowing the bed to fulfill its destiny as someone's Main Bed.
Couch
After the twin bed was gone, all we were left with was our couch. Again, on paper it doesn't sound awful. However, sleeping on a couch tends to scream: "I'm just crashing here for the night." Plus, this couch is the cruelest of couches: a loveseat. I can't lie on it without either being in the fetal position or having both my head and legs curved up, like I'm a slice of watermelon rind. Neither of these positions is ideal for a full night's sleep.
Therefore, for a period of time, whenever I offered someone a spot on my couch, he or she usually ended up sleeping next to it or, even more specifically, half under it (we made some cramped decorative choices).
After awaking to find my fiancé spooning a couch leg while being spooned by the coffee table, all on top of nothing but the tile floor (because he gave my mother his side of the bed when she came for a visit), I decided we would cease having guests until we could rectify the matter. Only sturdily built crashers allowed.
Air Mattress
Finally, we once again agreed to let a couple of friends stay with us. The time when we had to take a step toward being houseguest equipped had come. And what did we do?
We borrowed an air mattress from my fiancé's parents.
That's right. This air mattress isn't a permanent fixture. We didn't make any sort of investment. We just asked for one on loan. And we didn't even remember to ask for an extra set of sheets either. We had to ask the visiting couple to…bring their own.
"Yes, of course you can visit. Can you just bring your own sheets? And pillows?"
A more adult, houseguest-ready statement has never been uttered.
We rearranged the furniture so there was enough room for the mattress. That's thoughtful, right? Sure, we had to push into it in order to get to the bathroom, but that's still comfortable, right?
At least our bathroom is semi-private.