"At best, music makes us feel less alone" 
~David E. Suger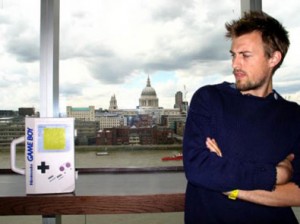 According to his bio on Last.Fm, David E. Suger is regarded as "one of the most creative artists around." There is certainly something wistfully imaginative t0 his music. The song featured here, "We weren't put together" when combined with the visuals of its strangely compelling music video has an otherworld feel. Produced, by the creatives at Tomfoolery Pictures, the result is close to what I´d like to imagine goes on in someone´s head when the muses run free and make music.
If you watch the music video "We Weren´t Put Together" once, odds are you´ll watch it twice. There´s a lot of going on there to take in. If the creepy moon in the video doesn´t scare you, then enjoy a a unique blender of music and video arts.
Rabble Rousing Interview with David E. Suger: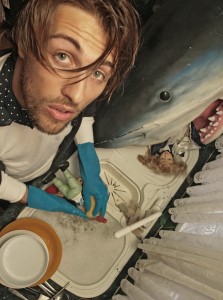 Rabble Rouse The World:  I was first introduced to your music when I saw the Youtube music video for "We weren´t put together." There is something strangely addictive about this video. It sucks you in. There is so much happening in both the video and the music. What inspired this song? What was the process of writing it? How was the video made?
David E. Suger: The song was inspired by the 20/12 London Underground bombings. The song was written the evening of the attack first on the guitar and then programmed on one of my Gameboys. I think I did it on the yellow one. The video was made by some friends of friends who sent me some photographs of some puppets they'd made. They disappeared into a shed in the country and would send me photographs. I love videos that are a piece of art without having to rely on the song. Traditional pop videos bore me.
RR: Have you heard about people having nightmares about the moon?
Suger: No
RR: What does your grandma think about your music? Has she seen the "We Weren´t Put Together Video".
Suger: My grandmother is amazingly youthful open-minded woman and I love hanging out with her. She actually prefers earlier work to my chip tune period, when I was less electronic. I don't think she's seen the video – she's not really on Youtube much.
RR: If you could force any major historical figure to sit down and listen to your music who would that be?
Suger: I'm not sure I like the idea of forcing anyone to listen to my music but I'd love to get some feedback from Elgar.
RR: What drives you to create music? What do you think drives people direct their creativity towards art anyways? What´s your take on the current commercial climate for music and other artist today?
Suger: Being asked what drives me to create music is kind of a funny question: I've just always done it and it's not really a conscientious effort to make things. The whole thing is closer to childish play. I guess some people make music or art to express themselves and of course I do this too, but I haven't got some agenda I'm pushing. At best music helps us all feel less alone. In terms of how I feel about the current climate for music I'm pretty mixed. On the one hand there's a ton of junk that's hugely successful but then there is currently a fantastic amount of amazing alternative music being made which isn't going unnoticed.
RR: How are you going to Rabble Rouse the World?
Suger: Invent a new chord that eases international diplomacy.
Follow David E. Sugar @DavidESuger