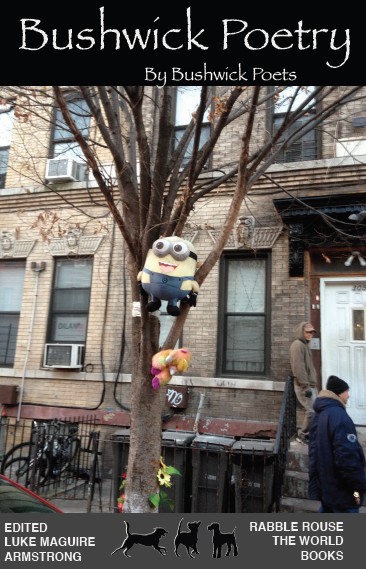 (Bushwick, New York City) – On Thursday September, 26th at 7:45 PM, Molasses Books will host the release party of the anthology Bushwick Poetry published through RabbleRouseTheWorld Books. The collection features poems from 16 writers living in the neighborhood of Bushwick, New York. From Coney Island's freak show performer, Aaron Rush Hicks, to Linda Penny, who after seventy years of an intrepid life only began writing poetry late last year—the collection captures the diversity of intrepid Bushwick natives and transplants making their way in this every changing sect of the city.
Bushwick has a long history of changing demographics. Ever since Peter Stuyvesant named the area Boswijck (little town in the woods) in 1661, Bushwick has been in a racial and economic flux. We humbly remind Williamsburg that it was once a part of  Boswijck.
Bushwick Poetry is the communal account of bursting hearts reaching for transcendental vibes of artistic elation. These are the stories of fleeting moments, following dreams, side-walk busking, breaking and healing hearts, late night reflections in the rain, walking alone in a city of eight million people and finding community in the glances of late night subway cars.
This collection includes verse from poets like Patricia Gillespie whose poetry pokes at something familiar with potent lines that seem to alternate between hard hits and shared intimacy. Her poetry feels like a much needed sharing with a close friend during a slow brunch outside of normal New York quicktime.
"I want you to ask questions. /Questions you have answers to," This encapsulates something timeless about our generation, of wanting tangible answers to questions, not religious dogma. In Bushwick Poetry Erica Jane is " Unperturbed / by the stirrings of strangers / scattered in diagonal chairs /under the eyelid of night," and Tami O'Neil reminds us that "If ever you're in need of someone to talk to /simply light a cigarette in front of Pennsylvania Station."
The Bushwick Poetry release will feature readings from the authors, a Q&A and open forum for discussing art in Bushwick, New York. Bushwick Poetry is currently available from Amazon.com and select NYC bookstores.