Art is something that defies defining. You'll find as many definitions for it as people attempting to define it. Yet usually, people sense it when they see it.
Today at RRTW kicks off an ongoing series profiling artists of all mediums (painting, music, writing, cat sculpture, etc.) We're asking artists from around the world the same five questions regarding their craft and showcasing their work.
The first artist to have a digital gallery with us is Steve Driver, a realist painter hailing from Great Britain using mainly oil paints and sometimes acrylics. Steve and his wife Louis are both relatively new to painting. They both got into it when Steve bought his wife and oil paint starter kit in 2005. We're glad he did, because both obviously have a knack for what they are doing in showing beauty in simple everyday objects.
5 Questions for Steve Driver
RRTW: Why do you create what you do?
Steve: The main thing I paint is still life oil paintings. I paint these because I like to show the simple beauty in everyday objects. I try and show that something mundane like an orange can be seen from a different viewpoint. I think a lot of people don't really look at things and take things for granted and I hope my paintings show that you can look at life in different ways if you choose to.
RRTW: What would happen to you if you weren't allowed to create art anymore?
Steve: I am sure I'd be very unhappy about it, the ability to create is a natural part of everyone. I would fight anyone who tried to stop me creating my art!
RRTW: What is art to you? I think art is basically a form of communication, it can evoke moods, emotions, feelings, ideas, expressions and concepts. It works best when it produces a response from the viewer.
RRTW: What makes an artist an artist?
Steve: A strong desire to create and communicate.
RRTW: Where do you want your art to take you?
Steve: I dont really mind where my art takes me as long as I am happy creating and enjoying it then that would be the main thing.
Steve Digital Gallery On RRTW:
Marbles – Most of my paintings are on a 16 x 12 inch canvas or smaller but for this one I used a big canvas 40 x 20 inches, the idea being to give an ants eye view of these beautifully coloured marbles. 2012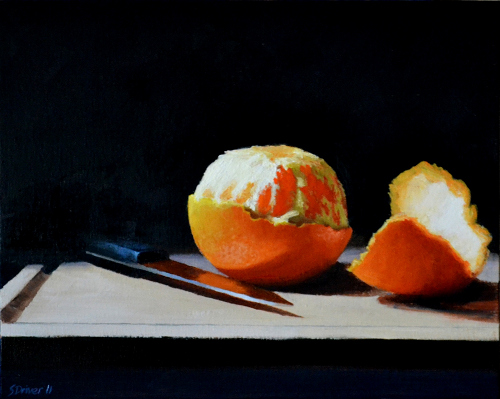 Orange and Knife – This is one of my most realistic paintings, but rather then just show an orange and knife I have tried to use dramatic light and colour to enhance a simple subject. 2012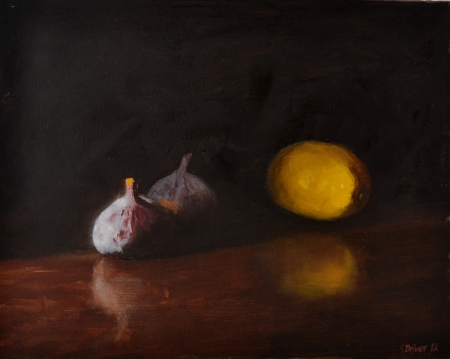 Figs and Lemon – I have used a light and dark effect called Chiaroscuro to give a moody appearance to this painting. I was pleased with the way the second fig is coming out of the darkness. 2012
Milk and Biscuits – I really liked the idea of this subject and trying to give it warm, cosy but also dramatic effect. 2012