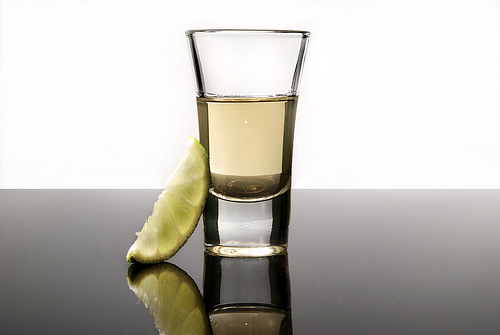 Tequila, you dirty, abusive spouse we promised, pinky swore, declared by pouring holy water on every dead relative's grave stone, to handle you like toxic waste, how have you slithered you way into our lives again. 
Sure, you promise that this time things will be different. That the vomiting taste will not wake up the seizing psychopath whose door swings wide open after the fifth round or so of you. Stop leading us to believe we can not only dance, but convincing us we can dance like a boss, certain that we should do it from a vantage point where all can see.
Tequila, how many photos must we un-tag ourselves in, how many limes must be beheaded in your shrine, how many times must we scrub gross stickiness from the floor that's become again our bed, before we leave you where you belong, shattered against concrete, thrown from a balcony, where what's left of the night plummets too close to the hard ground of reality, your naked, empty glass catching a glint of the dawn we swore we would not be awake for as we catch ourselves again in your rampant, fiery grip.
Image Credit: acapulcos.net