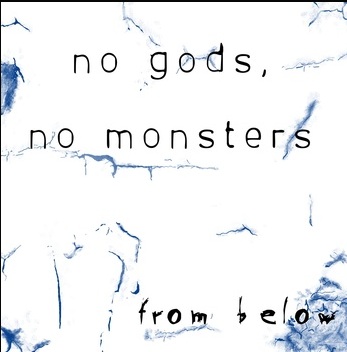 I first met Tom Hoy as singer/songwriter Julianne Mason's guitar player during a performance at Brooklyn's iconic Goodbye Blue Monday. His clean arpeggio driven electric guitar licks added a warm, sonorous element to Mason's ardently melodic voice. Hoy, it turns out, travels wide on the genre spectrum. He is also the lead guitarist for New York's rock band From Below.
From Below features Cero Cartera's ringing, dynamic vocals, Tom Hoy on guitar, Chika Obiora holding down the bass, and Ian Costello on drums. In their own words, they endeavor to create music "that seeks to channel the primal unconscious of humanity and give voice to it however [we] can." They travel from light rock music, to stormy distortion and nightmarishly nuanced dreamscapes that drone on to their melodic counterpoints.
Like the properly guided musicians they are, they are seek to "inspire, challenge and give joy to everyone's inner album." With the release of their first record, "no gods, no monsters," they are on track to do just that. The album begins with a driven, metal/punkish song "Carnivore" in which the lead guitar slowly beckons the band into a driven rock progression, which leads to Cartera proclaiming, "Disaster found me!"
This line of musical thought is followed up by their second eponymous track "From below" in which Cartera croons, "I lost my hands in a fire, lost my head to the sound." By the third track, "The Ledge" a softer voice emerges, but the emerging theme remains intact. "Don't call me baby when you're holding my knife, I think this makes me want to make you my wife." The song then dives back into distortion driven depths and as Hoy's guitar and Cartera's vocals bash against Costellos driving percussion. The album explores relationships, what goes wrong at the risk of finding out how to make things right, and the music becomes the natural struggles of 20 and 30-somethings seeking resolution to this galore we call the world.
From here the record continues to build, stopping to catch its breath during the final track, "Psychoacoustics" which slows things downs and seems to wrap up what you've just listened to, giving tangible understanding and connectedness to the themes running through the current of the album.
To be sure, this is a rock and roll record, but it is rife with passion and energy that makes the casual listener feel the energy that is surely present when the band takes the stage. There's obvious punk rock and indie influences, but at no point does it feel like the band is trying to play outside of their voice. This is music to take with you to the gym or racetrack and a record deserving of four squirrels playin' a banjo.