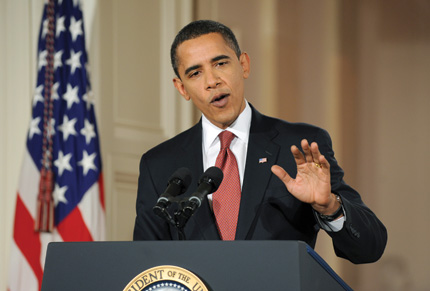 Washington, D.C. – Following a press conference from President Obama, where the commander-in-chief stated that nothing was off the table in regard to stopping Iran from acquiring nuclear weapons, Republican leaders have surprised many Washington insiders by abruptly announcing their support for Iran's nuclear weapons program.
"After carefully reviewing the situation, we believe that Iran, as a democratic nation, has the right to do what is in the best interest of their citizens," stated a press release issued by Sen. Mitch McConnell's office. "This is just another example of the president doing everything in his power to undermine democracy around the world."
This marked a drastic change the party's previous support of Israel, and cries for military intervention in Iran. Presidential Candidate Rick Santorum offered this explanation in an op-ed he wrote for the Wall Street Journal, "Once again, Obama has completely and utterly failed the nation. Instead of taking a look at what we could learn from Iran, he has continued his unrelenting attacks and threats. Did you know, according to Iran's president, there are no gay people in Iran? We should look to them on how we can achieve such a Christian utopia."
Democratic leaders have been quick to denounce the Republican Party's new position on a nuclear Iran. "Are you f**king kidding me?" asked Senate Majority Leader Harry Reid, in an interview on MSNBC's Morning Joe. "First they come out against women's healthcare, then they're against college, and now they're pro-Iran? What's next? A pro-puppy kicking platform? Seriously, is this a joke?"
This is not the first time that the Republicans leadership has been accused of playing partisan politics. In November, when President Obama announced he had quit smoking, Republican House Leadership introduced H.R. 1033, a bill that would allow cigarettes to once again be advertised on network television. This followed a controversial move in September, when the Republican leadership stated they "no longer believed in health care, period," and urged all sick Americans to "shut up."
However, nothing has yet topped the firestorm of controversy last May, when, following the President's order to kill Osama Bin Laden, the Republican-controlled House passed the non-binding resolution, "Osama Bin Laden: Not That Bad of a Guy."
Reached for comment, RNC chairman Reince Priebus explained some of these position changes, "Look, our party has one simple principle: Barack Obama is a big stupid head, and anything he says is dumb, and we hate him. This is the barometer for how we judge issues. And we believe the American people agree."
A recent Gallup poll would seem to indicate this message is resonating with their base, with a whopping 78% of registered Republicans now supporting Iran, up from just 0% last month.