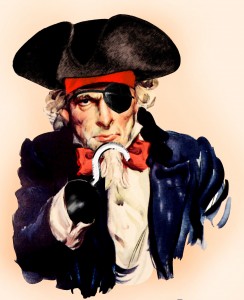 Rabble Rouser
noun, a person who speaks with the intention of inflaming the emotions of a crowd of people. DERIVATIVES, rabble-rousing adjective & noun
If RabbleRouseTheWorld.Com were a bear, it would be the sort of bear who ruins your camping trip by raiding your cooler, drinking your beer, and dancing Irish jigs all over your tent while you run for the high grounds.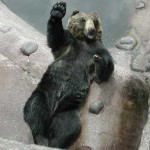 Fortunately for camping, RRTW is not a bear, but it is a website that likes dancing Irish jigs and drinking your beer. We've thought about it on many a dark night spend alone in bed drinking box wine and have decided that The Internet is here to stay and have dedicated ourselves to using it to Rabble Rouse.
Our Rabble Rousers
Andrew T. Post – Monday Columnist/Editor 

Andrew T. Post graduated from North Dakota State University in December of 2007, when the weather was so cold that Starbucks was serving coffee on a stick. He took his degree in journalism and put it to good use, penning sententious articles on his blog and works of short science fiction. In early 2012 he packed his bags and sought occupational asylum in the Republic of South Korea, where he lives in a ninth-floor apartment and works as an English teacher. He is a licensed pilot, a classically-trained bartender, and an unapologetic punster whose first novel is currently seeking a venue. Read Andrew's articles. 
Sara Roan – Tuesday Columnist

Sara Roan is a writer and performer. She moved to Brooklyn 7 years ago hoping to figure "it all" out. Fingers-crossed, that should happen any day now. Read Sara's articles. 

John Reaves – Friday Film Reviews 
John Reaves was born in Richmond, VA. When he didn't get into NYU film school, he went to VCU, ten minutes from home. Afterwards he moved to New York, and got back to his passion: movies. He lives in Brooklyn and he works as a Book Scout. Read John's reviews. 
Arman Mohazzabfar – Thursday Video Game Reviews

Arman Mohazzabfar is a comedy writer with a degree in Dramatic Writing at New York University. He has performed at the UCB and Magnet theaters in New York, as well as written sketch comedy, award-nominated short scripts and 6ppg on his intramural basketball team. When he's not doing those things, you can probably find him playing video games. Read Arman's reviews. 

Aaron Armstrong – Contributing Writer 
Aaron Armstrong feels very powerful when writing about himself in third person. He has started writing screenplays, novels, and a Highlander Rock Opera. He has been foiled in seeing these works reach their completion by acute voluntary carpal tunnel and the fact that he does not own the rights to Highlander. He currently resides in St Paul, MN, because he is frightened of sharks and wants to be as far away from the ocean without actually moving to space. Read Aaron's articles.

Luke Maguire Armstrong – Writer/Rabble-Rouser-in-Chief 

Luke (LukeSpartacus.com) was a baby, who became a boy, who became a man. Once he fought a bear and almost died. Haters later claimed it was "only a raccoon" and he was acting like "a little girl." He is the author of four books, including "How We Are Human." Follow @LukeSpartacus. Read Luke's posts.